Control panel is a flat, often vertical area where control or monitoring instruments are displayed or it is an enclosed unit that is the part of a system that users can access, as the control panel of a security system (also called control unit).
In the solar system , they are used to monitor and control immediate current, voltage, power and accumulated electric power. Older control panels are  often equipped with push buttons and analog instruments, whereas nowadays in many cases touchscreens are used for monitoring and control purposes.
DC junction box
We are instrumental in offering our clients with highly functional PV Array Junction Box. This PV Array Junction Box that we offer is fabricated with the use of latest technology and is suitable for different Solar Power applications. Our PV Array Junction Box is properly tested by experts under strict industry norms to guarantee flawless functioning and durability. 
Array Junction Boxes (AJB), also referred to as PV combiner boxes, basically collect DC power from PV strings with blocking diodes on each string for protecting panels from reverse current flow. The collected power is then transferred to power inverter.
Array Junction Box is meant for combining all the incoming lines from the solar panel strings/arrays and deriving one common array output for the multiple array inputs.
A Main Junction Box (MJB) is used to combine the multiple outputs from multiple numbers of Array Junction Boxes in the Power Plant and form a single output that can be connected directly to the DC Distribution Board (DCDB) or Power Conditioning Unit (Solar Inverter).
Main Functional Features Of The Main Junction Box
The main important features of the Main Junction Box is to provide a single output.
The MJB consists of two bus bars. One is used to combine all the positive terminals and the other is used to combine the negative terminals.
Efficient String Monitoring – Optional
Constitute  Of Array Junction Box(AJB)
Terminal Block/Bus Bar
Disconnect Fuse
Diode
MOV-48/96V
SPD 600/1000V
Isolator/MCB/MCCB-Optional
String Monitoring Facility-Optional
Contact us
AC Control Panel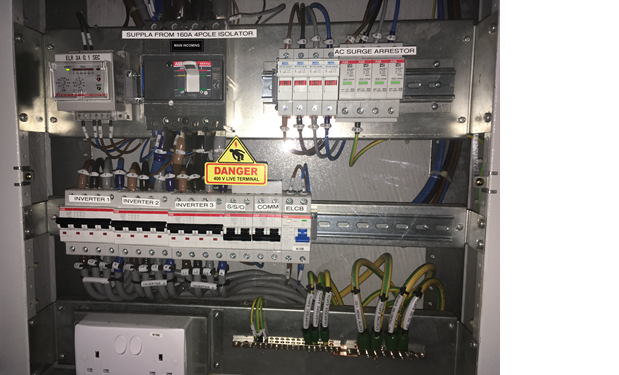 Electrical control panels are designed and used to control mechanical equipment. Each one is designed for a specific equipment arrangement and includes devices that allow an operator to control specified equipment.
Electrical panel components control every piece of equipment in every industry. It's difficult to describe all possible combinations because every industry and most companies have defined component preferences.
If you need to come up to speed on control panels fast, take your time. Find someone to help you, someone who knows what you're trying to do. Start with the basics and build from there. Below are the basics.
Electrical Power Components
Circuit Breakers
Fused Disconnects
Motor Starters
Soft Starters
Variable Frequency Drives
Electrical Control Components
Control Relays
Programmable Logic Controllers (PLC)
Contact us