A heating element converts energy into heat through the process of resistive or Joule heating. Electric current passing through the element encounters resistance, resulting in heating of the element. In the heat pump hot water system, the heating element acts as the auxiliary heating element to ensure that there is always hot water when other systems trip.
3kw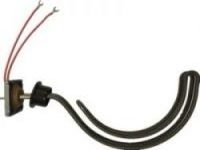 220V / 1phase / 50Hz
Heating capacity :  3kw;
Application:  Domestic hot water storage tank.
Contact us
122kw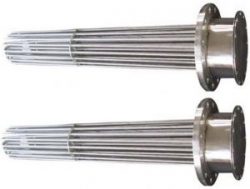 415V / 3phase / 3Stage
SUS 316
Dia : ø11.2mm x 1200mm U-Length x 27Elements
Cold Zone : 150mm
Flange : 8″ ANSI 150LBS SUS 316
C/W : Terminal Cover box, Safety Thermostat, Support Plate.
Watt Density: 62kW/M²
Application:   Commercial hot water storage tank.
Contact us