A hot water storage tank (also called a hot water tank, thermal storage tank, hot water thermal storage unit, heat storage tank and hot water cylinder) is a water tank used for storing hot water for space heating or domestic use.
Water is a convenient heat storage medium because it has a high specific heat capacity. This means, compared to other substances, it can store more heat per unit of weight. Water is non-toxic and low cost.
An efficiently insulated tank can retain stored heat for days, reducing costs. 
Water heaters for washing, bathing, or laundry have thermostat controls to regulate the temperature, in the range of 40 to 60 °C (104 to 140 °F), and are connected to the domestic cold water supply.
500L-5000L Confined water tank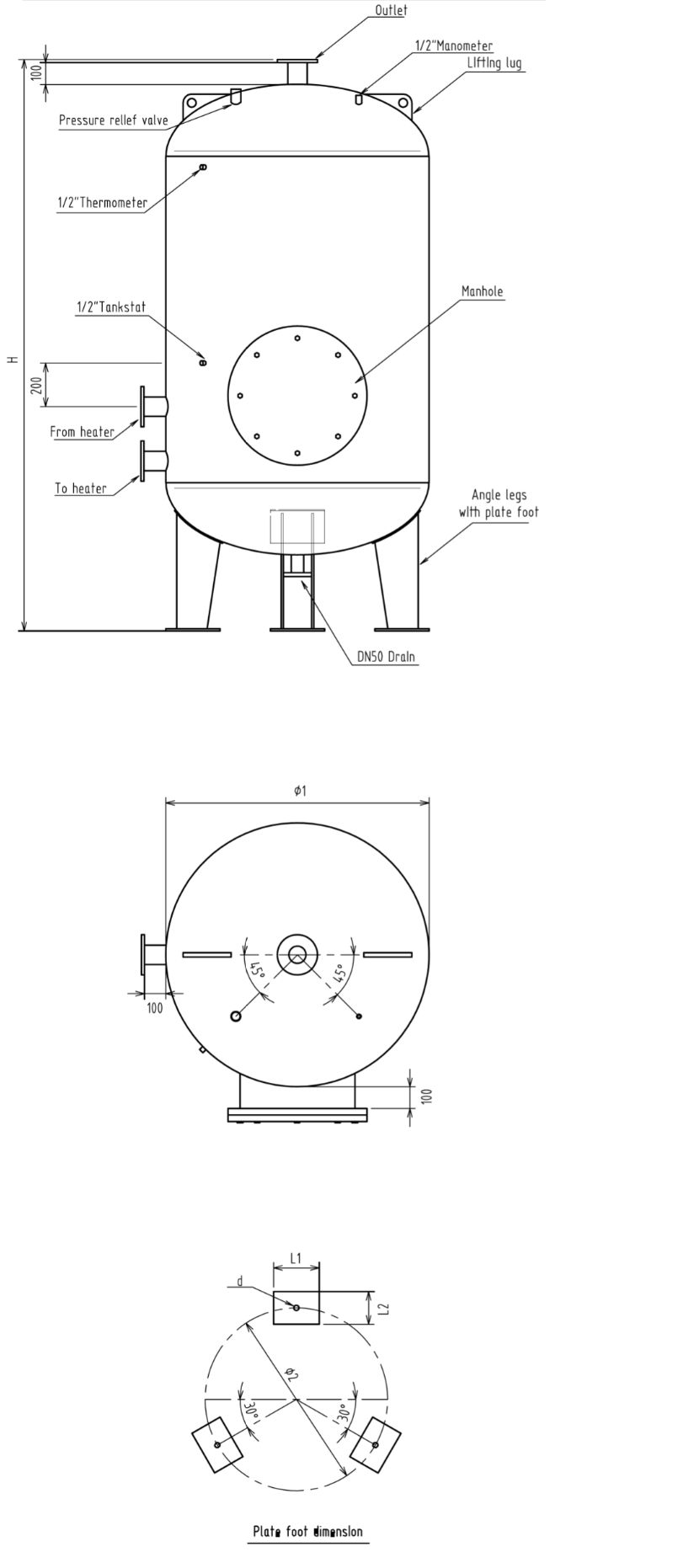 Max. Working Pressure 0.6 MPa
Capacity (Litre)

Thickness (mm )

                                Dimension(mm)
Dr y Weight (kg)

H

φ1

φ 2

d

L1

L2

500
5
2015
710
490
24
130
90
4 60
1000
6
1862
1000
700
24
160
110
4 60
2000
6
2362
1200
840
24
210
150
6 30
3000
6
3262
1200
840
24
210
150
790
4000
6
2662
1600
1200
30
250
180
890
5000
6
3262
1600
1200
30
250
1 80
1030
6000
8
3093
1800
1350
30
250
180
1390
7000
8
3443
1800
1350
30
250
180
1596
8000
8
3893
1800
1200
30
250
180
1866
9000
8
4293
1800
1350
30
250
180
2010
10000
8
4693
1800
1350
30
250
180
2156
STANDARD FEATURES SUS316L
Tank material
6MPa maximum working pressure
Flanged Manhole
Flanged water connections
Lifting lugs
Angle legs (SUS304)
Drain
Pressure relief valve
OPTION
1.0MPa maximum working pressure
Horizontal type
Contact us